Packers and Movers in Jhabua, Madhya Pradesh
Get Top-Class Relocation Services in Jhabua at a reasonable price.
Contact Now
Professional And Reliable Packers and Movers In Jhabua.
Are you planning to move to or from Jhabua soon? Malwa Roadways Packers and Movers in Jhabua will be more than happy to offer you full moving assistance. We will make your relocation smooth and hassle-free. We will handle every part of your move, including packing, loading, transportation, or unloading. Our shifting service in Jhabua is your reliable option if you do not have the time and knowledge to pack your belongings properly.
Our team of professional movers & packers in Jhabua will take great care of your belongings and deliver them in good condition at your new address. All you need to do is give us a call and sit back while our skilled movers and packers in Jhabua do the rest.
Packing and moving services offered by Malwa Roadways
Local and long-distance residential moving
Corporate and office relocations
Packing and unpacking services
Furniture and appliance moving
Loading and unloading
Storage solutions
Vehicle transportation
Specialized moving services for fragile or valuable items
On-site and virtual moving estimates
Customized moving plans to fit individual needs and budgets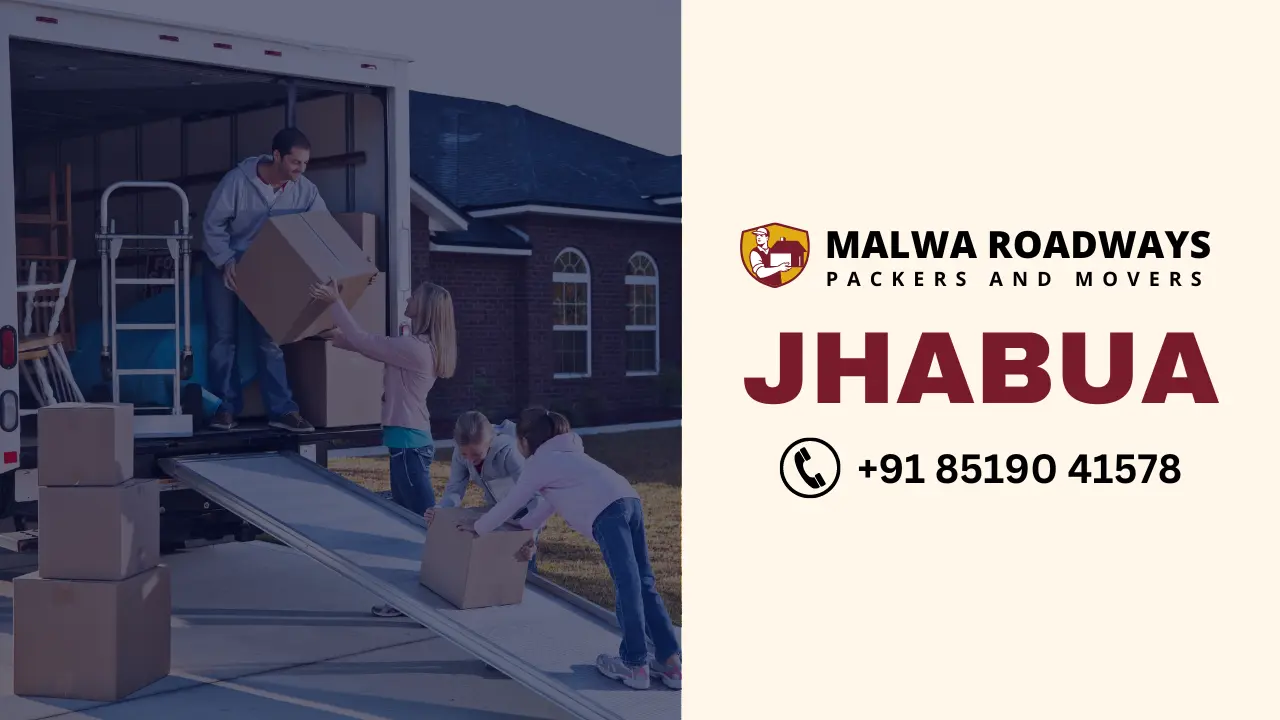 What are the benefits of Hiring Malwa Roadways Packers and Movers in Jabua?
In addition to providing some of the best moving services, Malwa Roadways offers both residential and commercial packing & shifting in Jhabua. Our professionals will pack your entire home or office with the utmost care – safely and efficiently. We understand that the packing process can be a stressful and complicated time for you. That's why we are here to make your move as easy as possible.
With a decade of experience, we are serving quality packing, shifting, and transport facilities in Jhabua so that our customers can have a more efficient and stress-free relocation. Our team is highly trained and dedicated to ensuring the safe transport of your belongings. Our company is here to provide you with efficient and worry-free movers and packers services in Jhabua, no matter the size, weight, type, and destination of the move.
Your Fragile Items Are Safe With Our Jhabua Movers And Packers - Packing your household items requires knowledge and expertise. Our local movers in Jhabua can handle this tedious task for you. You can save time and hassle while we take care of your belongings. Our packers have a lot of experience in moving all kinds of objects. No matter how small or big your move is. With Malwa Roadways Packers Movers Jhabua, all your precious belongings will be safe and well taken care of.
To protect your valuable household items, we also supply quality moving boxes, packing tapes, paper, shrink wrap, etc. Our agents have the skills to safeguard all your items including, antiques, cases, valuable artwork, and fragile furniture pieces.
Moving heavy furniture requires safe packing, and our packers have the necessary skills needed to protect and pack those types of items swiftly and safely. Also, our movers and packers can dismantle items of any size. We know how to pack and protect your furniture to ensure its safe delivery to your new home address.
Our priorities are our customers so You don't have to worry about your valuable and fragile items anymore. We know how to protect and pack your fragile belongings to reduce the risk of damage and crushes during transportation. Fragile items need careful handling, that's why you can rely on us! With high-quality packing, your fragile items will be protected and safely delivered to your new destination.
Our goal is to make our customers satisfied and help them have a stress-free moving process. That's why our movers from Jhabua can pack your entire home without troubles and complications. Our goal is to make your moving day an enjoyable experience, providing you with some of the best packing services Jhabua has to offer and a personal moving coordinator who will manage every step of your moving process.
Choose the service you want and our packing team will deliver whether you are moving a few Km or planning to relocate to another city, Our secured packers and movers team will ensure the safe delivery of your items in great condition.
We treat your belongings as if they were our own. With more than a decade of experience and expertise, we are one of the best packers and movers in Jhabua that have one of the best customer reviews. This is all thanks to the people that we work with.
Our employees are one of the best in the whole state of Madhya Pradesh. We can firmly say that we are extremely proud of the people that work for us. We all have the same goal and that is to provide you with the best moving and packing services.
Helpful Moving Resources In Jhabua
We want to make your move in or out of Jhabua City as easy as possible. We have compiled some resources to help you make your move easier.
Frequently Asked Questions - Packers and Movers Jhabua
What are the packers and mover's charges in Jahbua for local moving?
We charge Rs.8000 - 2000 for local household shifting. Office shifting costs start from Rs.15000 and go up to Rs.50000 depending on the size of the office.
What is the cost of moving from Jhabua to Another City?
The cost of shifting from Jhabua to another city depends on the following factors
Distance between Jhabua and the destination city
The number of items to be moved
The size of the truck required
And any additional service required ( Insurance, Carpentry, etc.)
For more information, you can read our article about calculating moving charges. For customized moving quotes, contact Malwa Roadways Packers and Movers Jhabua at +91 85190 41578
How to find the Best Packers and Movers in Jhabua?
Search on Google for Packers and Movers near you and list some of them.
Go through their website and contact them.
Share your shifting details and ask for a price estimate.
Visit their office before finalizing any packers and movers in Jhabua.
Check their review from trusted sources and evaluate.
Compare prices and choose the one that best fits your needs.